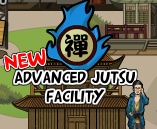 The
Advanced Jutsu Facility
is a building in the
mobile
version of Ninja Saga located in the
Fire Village
's
Town
. Players can upgrade their skills in the Advanced Jutsu Facility by purchasing upgrades with
Ninja Spirits
. Upgrading skills makes them stronger including damage and effect but it could cost more to use in cooldown and chakra.
The Advanced Jutsu Facility became available in the 1.1.11 version update of the iOS version and in the 1.1.4 version update of the Android version. In the Android version, this building can be rebuilt at a cost of five Ninja Spirits of any kind.
The highest rank a skill could be upgraded is up to rank 9 but there are some skills that have a maximum rank of 5 or something.
See also
Ad blocker interference detected!
Wikia is a free-to-use site that makes money from advertising. We have a modified experience for viewers using ad blockers

Wikia is not accessible if you've made further modifications. Remove the custom ad blocker rule(s) and the page will load as expected.