"Jounin Exam" redirects here.

The Jounin Campaign (previously Jounin Exam) are a series of exams

that Chunin can do after reaching the maximum level of 40 to become a Jounin. For the first month until July 20, 2010 when the Jounin Campaign (as the Jounin Exam) was first released, it was the Tensai Jounin Exam. By completing the Tensai version of the Jounin Exam, the player would be given the title of Tensai Jounin, as well as the Genjutsu, Kinjutsu: Serene Mind. After July 20, 2010, players who completed the Jounin Campaign can no longer become a Tensai Jounin.
Campaign missions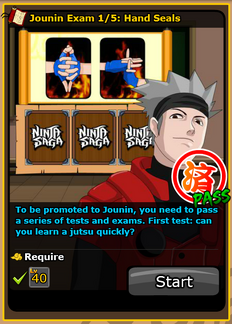 To be promoted to Jounin, you need to pass a series of tests and exams. First test: can you learn a jutsu quickly?
Reach the top of the Tower.  
Note: Team mates aren't allowed to go inside of the tower with you. So that means you're on your own.                                                                     
Tips : Equip enough Healing Scrolls with you.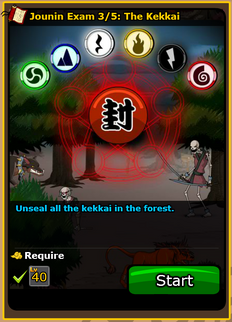 Unseal all the Kekkai in the forest.
Lead your team and challenge the Shinkigami of Elements!            
Tip : It'll be easier to do this mission alone if you're a premium user.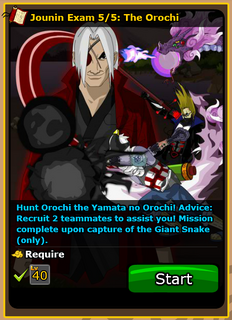 Hunt Orochi the Yamata No Orochi.
Advice: Make sure you recruit 2 team mates to assist you in this mission. Mission Complete upon capture of the Giant Snake (only).
Tips : Aim For Yamata No Orochi and focus on defeating him. Otherwise, the battle will take longer if you defeat Kyotaro and Mudo.
Tensai rewards
These rewards were available when the Jounin Campaign was first released until July 20, 2010. Rewards could of been obtained by collecting badges by completing each part. The rewards were given to players who participated in the Tensai version of the Jounin Campaign before July 20, 2010. By the end of that day, players would have received, by how far they progressed:
1 Magatama set (1 badge)
3 Magatama sets (2 badges)
Kinjutsu: Serene Mind, 3 Magatama sets (3 badges)
200 Tokens, Kinjutsu: Serene Mind, 3 Magatama sets (4 badges)
Rank of Tensai Jounin, 200 Tokens, Kinjutsu: Serene Mind, 3 Magatama sets (5 badges)