Jounin Exam Part 5
Jounin exam part 5 : The Orochi.The final in the last exam your opponent just a purple giant snake called Orochi, but be careful when the dragon health is only half-left, a pair of S-Rank Criminals Level 60 will who also wan't to capture Orochi appear, but trying to kill the main player and his/her recruit(s) so they can kill the snake themselves.
TIPS:
1st:Concentrate your attacks to the Dragon,and Stun/Sleep the criminals,they're not the target!Only Orochi needs to die for Victory.
2nd: If you want the battle to be faster and easier you can recruit NPCs. But the risk of recruit NPCs is they can attack everyone all they want but if you're recruiting friends you can control them to attack the snake not the criminals. But maybe the battle ends slower.
3rd: Recruit team mates that already have talent but still level 40.
4th. If you do not mind adding other people you may recruit powerful lv. 40 with burn and support jutsus to easier pass the exams. You may find recruits here https://www.facebook.com/ninjasaganpc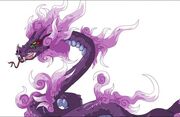 Ad blocker interference detected!
Wikia is a free-to-use site that makes money from advertising. We have a modified experience for viewers using ad blockers

Wikia is not accessible if you've made further modifications. Remove the custom ad blocker rule(s) and the page will load as expected.