"Special Kinjutsu Ritual" redirects here.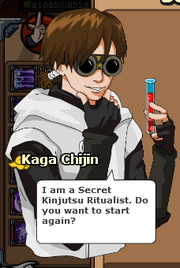 Kaga Chijin
is a Special Kinjutsu Ritualist that can remove every
Ninjutsu
or a
Talent
from a ninja if the ninja desires to reset their ALL of their Ninjutsu elements or just a by doing a Special Kinjutsu Ritual. He no longer appears on the Special Kinjutsu Ritual screen for both Ninjutsu and Talent as of February 28, 2010, although he never actually showed up for the ritual for Talents.
Before February 28, 2012, free users would have to pay 1,000 Tokens to reset their Ninjutsu elements but premium users can pay 200 to reset their Ninjutsu elements. However, when Kaga resets a ninja's Ninjutsu, refunds will not be given back to the ninja.
After February 28, 2012, players would have to exchange Ninja Seal Gan to reset all Ninjutsu. Free users would have to exchange 5 Ninja Seal Gan (1,000 Tokens total) to reset their Ninjutsu while premium users would have to exchange one Ninja Seal Gan (200 Tokens) to reset theirs.
Since February 28, 2012, ninjas can reset a Talent by exchanging 3 Ninja Seal Gan (600 Tokens) as a free user or 1 Ninja Seal Gan (200 Tokens) as a premium user and just like Ninjutsu, when a Talent is reset, the talent is removed from the character and there will be no Gold, Token, or TP refunds.
Gallery
Ad blocker interference detected!
Wikia is a free-to-use site that makes money from advertising. We have a modified experience for viewers using ad blockers

Wikia is not accessible if you've made further modifications. Remove the custom ad blocker rule(s) and the page will load as expected.