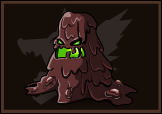 Kasikoki
is an event world boss that appears during the
Saga Romance
2011 event. It is a monster that is made out of molten chocolate.
Stats
Attacks
Expired Choco: Deals damage.
Chocolate Time: Recover HP to itself.
Bitter Black: Casts Strengthen.
Yummy White: Casts Protection.
Chocolate Combo: Deals damage and inflicts Parasite (-10% CP) for 3 turns.
Stomp: Deals damage.
Bite: Deals damage.
Trivia
Some people (Such as JeaHSaren) Call this the "Jiggly Monster" Cause it jiggles everytime.

Ad blocker interference detected!
Wikia is a free-to-use site that makes money from advertising. We have a modified experience for viewers using ad blockers

Wikia is not accessible if you've made further modifications. Remove the custom ad blocker rule(s) and the page will load as expected.