Kinjutsu: Battle Soul Jutsu


Data
Type
Kinjutsu
1
100
0
14
Requirements
Cost
No price
Skill
None
Training Time
Can't learn from academy
Training Time (Friend)
Can't learn from friend
(Kinjutsu) Use Genjutsu to boost your flighting spirit. All the attack increased by 5% (10 turns)
Additional effect(s)
Cast Strengthen on the user: Increases the user's attack damage by 5% for 10 turns.
Obtained by
Receiving it as random prize from the Ninja Scratch Card but it is rare to get.
Also, during Christmas 2014, this skill can be obtained by luck in the Christmas Gacha.
Gallery
Skill Preview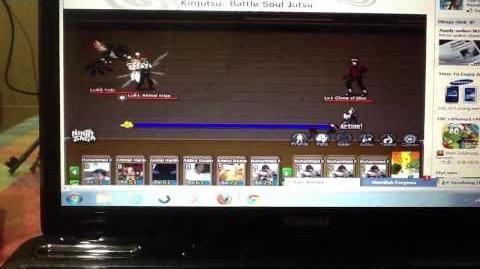 Ad blocker interference detected!
Wikia is a free-to-use site that makes money from advertising. We have a modified experience for viewers using ad blockers

Wikia is not accessible if you've made further modifications. Remove the custom ad blocker rule(s) and the page will load as expected.