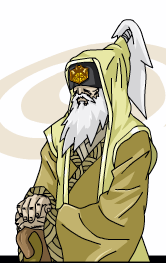 Mori Naruhisa
(毛利 徳久 :
Mo-ri Naru-hisa
) is an old man and the captain of the
Sensor Division
, a group of sensory-type ninja who don't specialize in combat. He first appears in
Stage 3-1
of the
Special Jounin Campaign
. He has the most powerful perception in the
Fire Village
, he is very strategic in many wars, and he is in charge of scouting trespassers from outside of the village.
[1]
In Stage 3-2: Call For Backup, Mori and the Sensor Division setup a back line but were attacked by Vadar and the Butterfly Sage but the main character stopped the Butterfly Sage and saved him since Mori Naruhisa wasn't good at fighting in combat.
In Stage 5-2, Mori devise a plan to lure the enemies so that the Surprise Attack Division and the main character can take out the enemies however, only the Ninja Panda fell into the trap that Mori thought up.
Appears in
Non-combat skills
Gallery
See also
References
Ad blocker interference detected!
Wikia is a free-to-use site that makes money from advertising. We have a modified experience for viewers using ad blockers

Wikia is not accessible if you've made further modifications. Remove the custom ad blocker rule(s) and the page will load as expected.