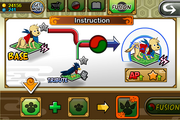 Pet Fusion
in a fusion process exclusive in the
iOS
version of Ninja Saga that allows the player to fuse
pets
to create a stronger pet. This feature became available in the v1.2.2 update.
To fuse pets, the player first selects a pet to be used as a base pet. The base pet will be the pet that will become stronger from the fusion. Then the player selects a pet to be used as the tribute pet. The tribute pet will be offered, meaning that the player will no longer have the tribute pet when fused. As a result, the base pet's attribute points will increase and will randomly be distributed it and its rarity level increases.
Video
Ad blocker interference detected!
Wikia is a free-to-use site that makes money from advertising. We have a modified experience for viewers using ad blockers

Wikia is not accessible if you've made further modifications. Remove the custom ad blocker rule(s) and the page will load as expected.