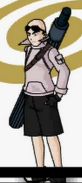 Shira (シラ)
 first appears in the
third part
of the
Chunin Campaign
as the second opponent. Before the character appearance update, he was a bloodline user that can manipulate bugs and insects and use them to attack his opponents. After the update, Shira specialized in poisonous techniques.
Shira re-appears in the Special Events mission "The Mysterious Bug", requesting assistance to capture a mysterious bug.
Appears in
Attacks
Gallery
Trivia
See also
Ad blocker interference detected!
Wikia is a free-to-use site that makes money from advertising. We have a modified experience for viewers using ad blockers

Wikia is not accessible if you've made further modifications. Remove the custom ad blocker rule(s) and the page will load as expected.